Honey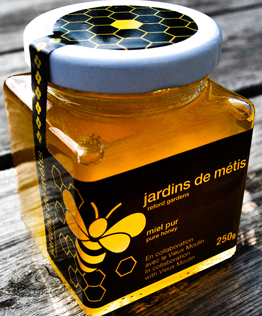 A Taste of Honey
Les Jardins de Métis launch their first harvest of honey

Les Jardins de Métis (Reford Gardens) today launch a new gourmet product – honey produced by honey bees during the summer of 2012. It is the latest product in the line of flavourful culinary delicacies produced by Les Jardins de Métis. The Jardins de Métis honey is a light honey, the by-product of the more than 300,000 honey bees in 10 hives that fed on the flowers and delights of the gardens' collection of more than 3,500 perennials and annuals. "Honey bees typically travel more than 10 times the circumference of the earth in search of their food," commented apiarist Normand Tremblay, owner of Le Vieux Moulin in Ste-Flavie who owns the hives and partnered with Les Jardins de Métis for this product, "but these bees did not have to go too far. Because the honey is produced by flowers rather than crops, it has a light colour, flows easily and has a lovely floral bouquet that lingers after tasting ». The Jardins de Métis honey is the latest in the line of culinary products developed by chef Pierre-Olivier Ferry and his team. Chef Pierre-Olivier Ferry kept a quantity of the honey to be used in the daily menu he produces for the dining rooms of Estevan Lodge. "With our partners at Émulsion, we produced a beautiful label that reflects what we see these products as being – unique, attractive and a mirror of the reputation of Les Jardins de Métis for quality and unique experiences", said Chef Ferry.

The other products produced by Les Jardins de Métis are: Pickled Daylily buds in honey vinegar, Fiddleheads pickled in wine vinegar, Daisy buds in wine vinegar, Labrador Tea Jelly, Wild Mint Jelly, Crabapple Jelly, Wild Strawberry and Lemon Basil Spread, Wild Blueberry and Lavender Spread.